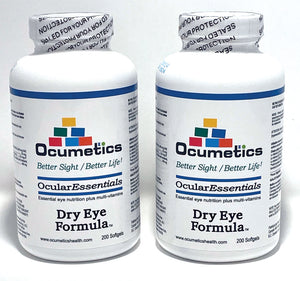 Dual Pack - enter the

 

REFERRAL CODE and DISCOUNT CODE

 

(the same 

REFERRAL CODE

) at check-out to receive

 

FREE SHIPPING.
Request a Referral Code from your Eye Doctor.
The Referral Code has to be punched in twice, once in the Referral Code boxes, and once in the Discount Box top right at the check-out page.  Don't forget to press apply to receive the free shipping.
Dry Eye Formula establishes a normal physiological balance of the microscopic structures on the surface of the eye.  It works in conjunction with eye drops and other topical treatments.  The goal; however, is to achieve independence from these artificial products by recovering the integrity of the eye's first lines of defense.