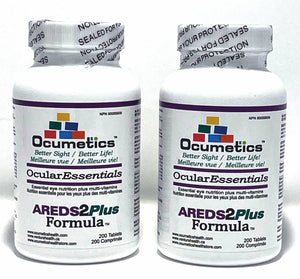 Dual Pack - enter the REFERRAL CODE and DISCOUNT CODE (the same 

REFERRAL CODE

) at check-out to receive

FREE SHIPPING

.

Request a Referral Code from your Eye Doctor.
The Referral Code has to be punched in twice, once in the Referral Code boxes, and once in the Discount Box top right at the check-out page.  Don't forget to press apply to receive the free shipping.
AREDS2 Plus is an AREDS2 compliant product that has selenium and vitamin D added to maintain the body's ability to generate the essential hormone thyroxin.  It also helps protect the central nervous systems from the depletion of important anti-oxidants which safeguard against dementia.  AREDS2- Plus is a better choice for people who are fighting established dry macular degeneration. 200 Tablets per bottle.